The Bachelor of Fine Arts in Acting at the University of Connecticut is an intensive, conservatory-style program designed to prepare students for direct entry into performance careers in all areas of the professional theatre, including television and film. Students are also thoroughly prepared to continue acting studies at the graduate, Master of Fine Arts level. Combining a four-year sequence of acting classes with extensive voice and movement training and a well-rounded course of studies in the art of theatre, the BFA Acting Program also offers outstanding performance opportunities through the Connecticut Repertory Theatre (CRT), the performance wing of the Department of Dramatic Arts. At the CRT, students work with professional actors and directors on the way to earning membership points in Actor's Equity, the American union for professional stage actors and stage managers.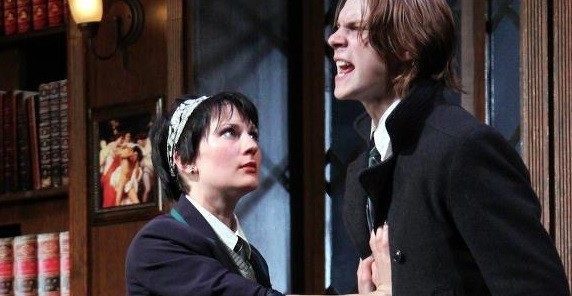 COURSE OF STUDY
Our program of study is unique among the Northeastern BFA acting programs in both state and private universities.  Our mission is to provide the tools, skills, experiences, and processes to empower the young actor…who strives toward greatness…for a career in the American Theatre in all of its manifestations.  Our program balances the artistic training with the academic learning.  This brings into focus the path of the professional actor with the maturation of the individual as a citizen of the world.
Below are a few examples of what makes our program unique:
All our instructors are working professionals as well as dedicated teachers.
Our class size is the smallest of any BFA Actor Training Program in the Northeast (typically 12 individuals), which allows us to provide significant individual attention.
Study Abroad with Semester in London.  Juniors will spend their Fall semester abroad studying in London. This will be a unique opportunity to study:  Acting Shakespeare, Speaking Shakespeare, Period Dance, Physical Theatre (taught by members of Theatre Complicite), Stage Combat with potential certification as actor/combatant by the British Society of Fight Directors.  The students will be in direct contact with directors, actors, and designers of current productions of the London Theatre. This will also include 8 to 10 performances as well as tours of The Globe and the National Theatre.
Learn from professional guest teaching artists: Such as comedy class with Jerry Adler who appears regularly on The Good Wife and with Pat McCorkle of McCorkle Casting who teaches Acting for the Camera class.
Opportunity to work with Puppet Arts majors on film and live action projects.
Casting at Connecticut Repertory Theatre where BFA actors work alongside MFA and Equity actors directed by outstanding professional directors while earning points towards their union affiliation.
Senior Showcase for NYC agents, casting directors and additional industry professionals.
YEARLY PLAN OF STUDY
PLEASE NOTE: This plan suggests a sequence of general education courses that would enable the acting major to complete the university requirements in four years. The following plan of study does not reflect any "remedial" courses in writing and math that the university may have required you to take or any foreign language requirements that you did not fulfill in high school. If you require any of these courses, the faculty strongly recommends that you consider taking some requirements during summers or intercessions. If you plan to take courses at any other university or college, be sure to check with the Transfer Admissions Office BEFORE enrolling to ensure that they will meet specific UConn requirements.
1st Year
Fall Semester
DRAM 1206  Theatre Production Studio (3)
DRAM 1701  Acting Technique I (3)
DRAM 1801  Stage Movement I (3)
WRITING:  ENG 1010 or 1011 (4)
AREA 1:  Arts and Humanities- 1 Course (3)
Total Credits: 16
Spring Semester
DRAM 1702  Acting Technique II (3)
DRAM 1802  Stage Movement II (3)
DRAM 1901  Voice & Speech I (3)
DRAM 1282  Practicum*-Costume, Light, Sound (1)
AREA 2:  Math or Related (3-4)
AREA 4:  Multiculturalism and Diversity-1 Course (3)
Total Credits: 16-17
2nd Year
Fall Semester
DRAM 1902  Voice & Speech II (3)
DRAM 2130  History of Drama I (3)
DRAM 2810  Stage Movement III (3)
DRAM 1282  Practicum*-Set Run Crew (1)
DRAM 2701  Acting Technique III (3)
DRAM 3721  ***Performance Technique-Suzuki (1)
AREA 1:  Science and Technology (3-4)
OR
AREA 4:  Multiculturalism and Diversity (3)
Total Credits: 17-18
Spring Semester
DRAM 2131  History of Drama II (3)
DRAM 2901  Voice & Speech III (3)
DRAM 2702  Acting Technique IV (3)
DRAM 3182  Practicum** (1)
DRAM 2812  Stage Movement IV (3)
QUANTITIVE:  Math or Related (3-4)
Total Credits:  16-17
3rd Year
Fall Semester in LONDON
DRAM 4701 Acting Technique V Acting Shakespeare (3)
DRAM 4811 Stage Movement V Period Dance & Physical Theatre (3)
DRAM 4911 Voice & Speech IV Speaking Shakespeare (3)
DRAM 3721 Stage Combat (3)
DRAM 4135W British Theatre (3)
Total Credits:  15
Spring Semester
DRAM 4912  Voice & Speech V (3)
DRAM 4812  Stage Movement VI (3)
DRAM 4702  Acting Technique VI (3)
DRAM 3182  Practicum*** (1)
DRAM (Hist/Lit) 3130, 3131W, 3138, 4135W (3)
AREA 3:  Science and Technology (3-4)
Total Credits:  16-17
4th Year
Fall Semester
DRAM 2711  Introduction to Directing***(3)
DRAM 4703  Acting Technique VII (3)
DRAM 4931  Voice & Speech VI (3)
QUANTITIVE:  Social Science (3)
Gen Eds or Electives as needed (3+)
Total Credits:  15-19
Spring Semester
DRAM 4194  Seminar (1)
DRAM 4705  Acting for Media (3)
DRAM 4821  Musical Theatre Dance** (3)
DRAM 4704  Acting Technique VIII (3)
DRAM 3182  Practicum** (1)
AREA 3:  Arts and Humanities (3)
Gen Eds or Electives as needed (3+)
Total Credits: 17
* Acting majors must fulfill three credits of 1282. The production manager will place them into crew assignments in their first three semesters (running lights, costumes, or scenery), and will register them for these credits after casting is completed for that semester.
** Acting majors must complete three credits of 3182 in acting, stage management, dance, or theatre management. All three of these credits may be earned in acting if the student is cast in three or more plays.
*** Recommended courses:  Actors at the sophomore or higher level may take Suzuki training in any semester they wish, and as often as they wish, up to six times.
Two 'W' courses are required by the University, one of which must be taken from those offered by the Dramatic Arts Department. The other 'W' course may be a Dramatic Arts Department offering or an offering from a different department.