The Design/Tech BFA program prepares candidates for entry-level positions in the areas of design, management, technology and craft professions in theatre and other parts of the entertainment industry. Upon completing this program, some students advance to graduate-level professional training at a variety of institutions throughout the country. Undergraduate Design/Tech majors have the opportunity to study and work in all areas, including Scenery Design, Construction & Rigging, Costume Design and Construction, Lighting Design, Properties Design & Construction, and Sound Design. Coursework combines with practical work on CRT productions. Advanced undergraduates with particular promise often serve as assistant designers or designers for CRT Studio Works productions.
Outstanding undergraduates have even worked as principal designers of CRT Mainstage productions. Informal assessments by the Design/Technical faculty in the student's freshman and sophomore years are helpful in providing feedback, sharpening focus and encouraging candidates with demonstrated an aptitude to continue in the program. Junior and senior BFA Design/Tech majors participate in portfolio reviews at the end of each semester and are encouraged to enter U/RTA (University and Regional Theatre Association) Final Competitions in New York City in January to compete for positions in Professional Regional Theatres and member graduate school programs throughout the country.
Unlike many fields of study in which students take few courses in their major during their early semesters, BFA Dramatic Arts Students begin intensive training in their chosen field immediately upon entering UConn. In a BFA program, approximately half of your college courses are in your chosen field of study. Most of the remaining credits you will take constitute the university's General Education Requirements in writing, math, history, humanities, science and social science. You will take from one to three general education courses per semester, depending on your semester standing.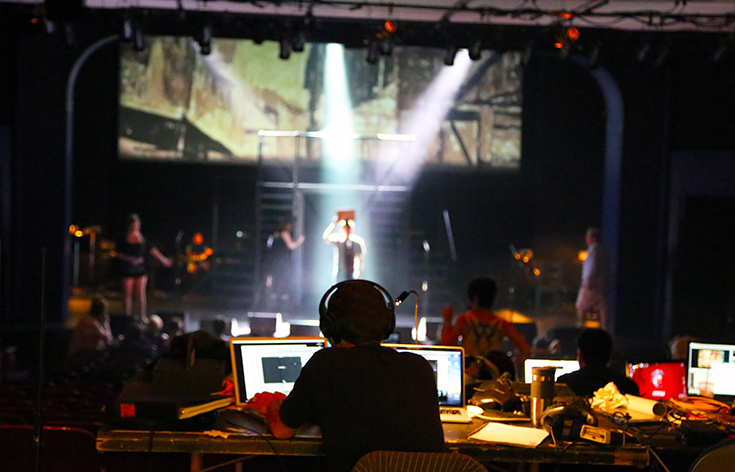 TECHNOLOGY REQUIREMENTS
Technological Requirements: All Design/Tech BFA & MFA students must have a laptop that meet the department's minimum requirements. Requirements can be seen here.
PLAN OF STUDY FOR THEATRICAL DESIGN & TECHNOLOGY
UCONN General Education Requirements:
1. Area 1 Arts & Humanities (6 credits)
2. Area 2 Social Sciences (6 credits)
3. Area 3 Science & Technology (7 credits - 1 lecture, 1 lab)
Content Areas 1,2 & 3 must come from 6 different academic departments
4. Area 4 Diversity & Multiculturalism (6 credits - 3 credits must be from International)
One Content Area 4 class may double with a Gen Ed class from Areas 1, 2 or 3
5. 2 Quantitative classes from Math or Statistics (this includes courses in Problem Solving)
6. Second language (3 High School years or 2-semester classes in a single language)
7. 2 "W" classes to show writing competency (1 must be above 2000 level in student's major)
8. Computer Technology (this will be accomplished within the Design/Tech major through CAD drafting, Computer rendering and/or Digital technology for projections and animations)
Year 1 will usually have 1000 level courses, 2 will be 2000, 3 will be 3000 and 4 will be 4000 level.
1st Year
FALL Semester
DRAM 1201: Design Drafting
DRAM 1216: Production Studio: Lighting and Sound
DRAM 1209: Drawing and Painting
ENGL 1110 or 1111: General Education English
(Writing – AP can be waived and replaced with Gen Ed Area 1, for example, any of the following):
ENGL 1101: Classical & Medieval Western Literature
ENGL 1103: Renaissance & Modern Western Literature
ENGL 1503: Introduction to Shakespeare
ENGL 1616: Major Works of English & American Literature
ENGL 1640W: Literature and the Creative Process (writing class)
GEN ED Area 3: Science and Technology – 4 credit Lab science(Biology, Chemistry, Geosciences, Marine Sciences, or Physics)
16 credits
SPRING Semester
DRAM 1202: Computer Aided Drafting
DRAM 1218/1217: Production Studio: Stagecraft/or Costumes & Makeup
DRAM 1210: Computer Rendering
DRAM 3199: Connecticut Repertory Theatre Production Assignment
GEN ED Area 1: Arts and Humanities (Below are a sampling of the many courses offered):
ARTH 1128: Art History, Renaissance to Present
ARTH 1162: Introduction to Architecture
DRAM 1110: Introduction to Film
FREN 1171: French Cinema
FREN 1177: Magicians, Witches, Wizards: Parallel Beliefs French Pop Culture
LING 1010: Language and the Mind
FINA 1001: Earthtones: Vocal Ensemble
FINA 1100: Afrocentric Perspective in the Arts
Quantitative Class: Mathematics or Statistics Q course
18 credits
2nd Year
FALL Semester
DRAM 2130: History of Drama I
DRAM 3401: Costume History
DRAM 3501: Lighting Design I
DRAM 3199: Connecticut Repertory Theatre Production Assignment
GEN ED Area 2: Social Sciences
Quantitative Class: Mathematics or Statistics Q course
18 credits
SPRING Semester
DRAM 2131: History of Drama II
DRAM 3220: Sound Design
*DRAM 3402/3502: Design elective: Costume Design/ or Lighting II
DRAM 1217/1218: Production Studio: Costumes & Makeup/or Stagecraft
DRAM 3199: Connecticut Repertory Theatre Production Assignment (Assist or Crew Head)
GEN ED Area 3: Science and Technology lecture
18 credits
3rd Year
FALL Semester
DRAM 3201: Scene Construction
DRAM 3301: Scene Design I
DRAM 3130/3131W: Women in Theatre/or African-American Theatre (Satisfies Gen Ed Area 4+W)
DRAM 3199: Connecticut Repertory Theatre Production Assignment (Assist or Small Design)
GEN ED Area 4: Diversity and Multiculturalism (foreign study topic)
GEN ED area 2: Social Sciences
Total: 18 credits
SPRING Semester
*DRM 3302/3202/3603  3 cr Elective (Scene Design II/Rigging/Puppetry)
DRAM 3103: Stage Management for the Theatre
DRAM 3138/3139: Trends in Contemporary Theatre/or Theatre & Human Rights
DRAM 3199: Connecticut Repertory Theatre Production Assignment (Asst or Small Design)
GEN ED area 2: Social Sciences
12 - 15 credits
4th Year
FALL Semester
DRAM 3199: Connecticut Repertory Theatre Production Assignment (Asst or CRT Design)
*DRAM 4135W: Period Studies in Theatre (satisfies a W requirement)
*DRAM 4151: American Film
DRAM 4711W: Directing (satisfies a W requirement)
*DRAM 5000: Possible graduate level design class
12 – 15 credits
SPRING Semester
DRAM 3199: Connecticut Repertory Theatre Production Assignment (Asst or CRT Design)
*DRM 3141/3142/3145: Playwriting/Dramaturgy I/Film Writing I
DRAM 3402/3502: Design elective: Costume Design/ or Lighting II/ or Puppet Arts
*DRAM 4152: World Film
*DRAM 5000 level: Possible graduate level design elective
12 – 15 credits
124 – 133 credits (120 credits are required to graduate)
* = Elective
Also available are various study abroad programs through Winter Break short courses or Junior semester abroad in London, Bournemouth, Paris, or Barcelona