The Master of Fine Arts degree in Costume Design provides a highly tailorable program which allows students to follow a path that is unique to their interests and passions.  Students are encouraged to take courses across disciplines and to be pro-active makers and creators.  The training program focuses on developing skills in text analysis, research, creativity, communication, collaboration, and the ability to translate one's ideas into visual form with speed, consistency, and clear intention.  The program includes both design and assistant design assignments at CRT (Connecticut Repertory Theatre) as well as on-the-job training with professional technicians.
TECHNOLOGICAL REQUIREMENTS
All Design/Tech MFA students must have a laptop that meet the department's minimum requirements. Requirements can be seen here.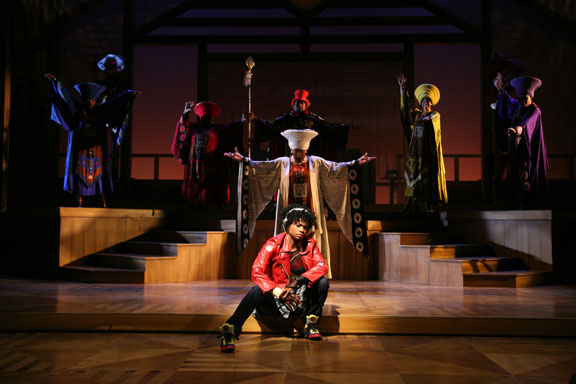 COURSE OF STUDY
A minimum of three years of full-term resident graduate study is required.  A minimum of 60 graduate credits is required.  All MFA students follow The Graduate School's "Plan B" (no thesis), however a specially assigned "MFA Project" involving the design of a CRT production and a committee review of the project is required during the final year.  Additionally, all MFA design students will fulfill an Internship Milestone, which requires participation in an internship in theatre, television, film, or entertainment.  While most MFA students engage in an internship with a company or companies off campus, work for the Connecticut Repertory Theatre's Summer Nutmeg Series is also allowable.  The Internship Milestone will be a minimum of three months and a maximum of one year of Curricular Practical Training required for a firm grounding in the profession.
THE FOLLOWING IS A LIST OF THE CURRENTLY OFFERED COSTUME SPECIFIC COURSES:
Introduction to Graduate Stage Design
Survey of 20th Century Stage Design
Costume Design: Comic Exaggeration
Costume Design: Tragedy and Post Modernism
Costume Design: Poetic Realism
Costume Design: Film and TV
Costume Design: Fantasy and Opera
Costume Design: Dance and Musicals
Wearable Electronics
Costume History
Period Rendering
Color Theory/Light & Fabric
Advanced Make-up: Prosthetics & Wigs
Flat Pattern Drafting
Draping
Tailoring or Advanced Costume Construction
Practicum: Assistant Costume Design (credit repeated per project)
Practicum: Costume Design (credit repeated per project)
Practicum: Wardrobe/Shop Management (credit repeated per project)
Practicum: Directed Study in Costume Construction (credit repeated per project)
MFA Plan B Project
Internship Milestone
Costume Design students are additionally encouraged to take cross-disciplinary courses in such areas as Scenery, Lighting, Puppetry, Theatre Management, Art and Art History, and Digital Media.
COSTUME DESIGN PROGRAM HIGHLIGHTS:
The Connecticut Repertory Theatre (CRT) season is composed of six shows a year with a range of classic to contemporary works.  All productions are directed by professional guest artist directors, largely from NYC and Chicago, and faculty members.  All designers are student designers.  Casts are composed of graduate and undergraduate student actors and two equity guest artists.  Working with professional directors is a great way to expand your network and build credentials.
Fully Supported Show Designs: The number of design assignments for each student ranges from 0-3 shows per year, fully supported by the costume shop.  Students additionally assist each other on 1-3 shows per year.  Over the course of their 3 years, most students design 3 to 4 fully supported productions.
Accessible to NYC and Boston: Uconn is located in Storrs, CT which is 45 minutes from Hartford, 2.5 hours from Boston, and 3.5 hours from NYC.  Students spend time in NYC shopping fabrics and trim for their shows, renting costumes from the Costume Collection, and seeing shows and art exhibits.
Graduate Half-Assistantships and FASFA Work-Study: As a graduate assistant, in return for 10 hours a week of work in the costume shop. You receive approximately $12,400.25* with a full tuition waiver and subsidized medical/dental insurance.  Students must still cover student fees, separate from tuition.
*See the below link for the exact amount offered by the graduate assistantship and also FASFA Work-Study funding opportunities.  Rates can vary from year to year. http://gradcatalog.uconn.edu/grad-school-info/assistantships-fellowships-other-aid/
Highly Flexible, Individually Tailored Program: Our goal is not to force you into a single mold, but instead to challenge your thinking and your habits, to pass on our knowledge and experience, and to support and grow your specific talents and interests in whatever way possible.
High Professor/Student Ratio approx. 1/2 with a high level of one-on-one mentorship and professor accessibility
Professionally Active Professors whose work spans NYC, regional, and international venues
World-Renowned Puppetry Program:  Learn puppetry first hand and additionally collaborate with puppeteers to design the costumes for the puppets and puppeteers.
Devised Theatre: Opportunities exist both through classwork and realized productions
Wearable Electronics Cross-Disciplinary Courses co-taught by Drama and Digital Media and Design
Stop Motion Animation courses and independent study available through the Art Department
Illustration Courses available through the Art Department
Grant Writing:  Learn about self-producing your work through grant writing courses.
Internship Opportunities with regional theatres
Professional Teaching Opportunities:  Every semester, our undergraduate course in beginning sewing and basic stage make-up is taught by a graduate student.  This is a paid position.