Admissions to the School of Fine Arts as a BFA in Puppet Arts Major is a two-step process involving both an audition/portfolio review as well as the submission of University application through the Common Application. The Common Application can be obtained from the University of Connecticut Undergraduate Admissions Office.
Application Deadlines are as follows:
Priority Freshman Application:
December 1st – Deadline for Merit Scholarship & Honors Consideration
Freshman Application:
January 15th – University Application/Common Application
It is best to submit your University application before coming to an audition/interview. Admission decisions to the University will not be made until Undergraduate Admissions receives results of your audition/interview.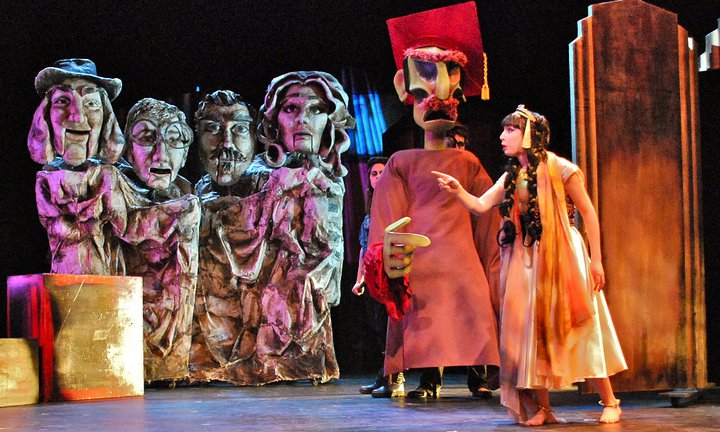 BFA in Puppet Arts Audition and Interview Process:
Each year we see an increase in the number of people wishing to be part of our program. Because facilities and resources are limited and we have a strong commitment to maintaining the quality of programming that we offer, we require an entry audition at all levels. Those applying for the BFA Puppet Arts program must also audition for and be interviewed by a selection committee comprised of members of Puppet Arts faculty. It is to your advantage to schedule an audition appointment as early as possible.
BFA Puppet Arts Audition Dates:
| | |
| --- | --- |
| Saturday | Saturday |
| Dec. 1, 2018 | Jan. 26, 2019 |
To schedule a BFA Puppet Arts Audition/Interview
Please call the Puppet Arts Office at (860) 486-4568.
The audition process includes:
A prepared 3-5 minute presentation in any expressive discipline of strength for the applicant
An improvised presentation with objects provided by the audition committee
A presentation of past work through a portfolio
An interview. All auditions will take place on the Storrs campus of UConn.
*The applicant should make every effort to audition in person. If this is impossible, an audition and interview can be arranged via video recording and telephone. Video Auditions must be received by January 31, 2019.
WE STRONGLY URGE YOU TO APPLY TO THE UNIVERSITY BEFORE YOUR AUDITION/INTERVIEW DATE.