Undergraduate Application Process:
Applications for the 2023-2024 school year are now CLOSED. Please check back Summer 2023 for more information.
Step 1:
Submission of University application through the common application or coalition application for UConn.
Either can be obtained from the University of Connecticut Undergraduate Admissions Office.
Step 2:
Please see below for additional materials showcasing your talent for Dramatic Arts applicants.
This may include an audition, portfolio review, interview, and/or a separate application.
Application Deadlines
December 1, 2022: Priority Freshman Application Deadline for Merit Scholarship & Honors Consideration.
January 15, 2023: First-Year Student Application/Common Application
It is best to submit your University application before your audition, portfolio review, or interview. Admission decisions to the University will not be made until Undergraduate Admissions receives results of your audition, portfolio review, or interview.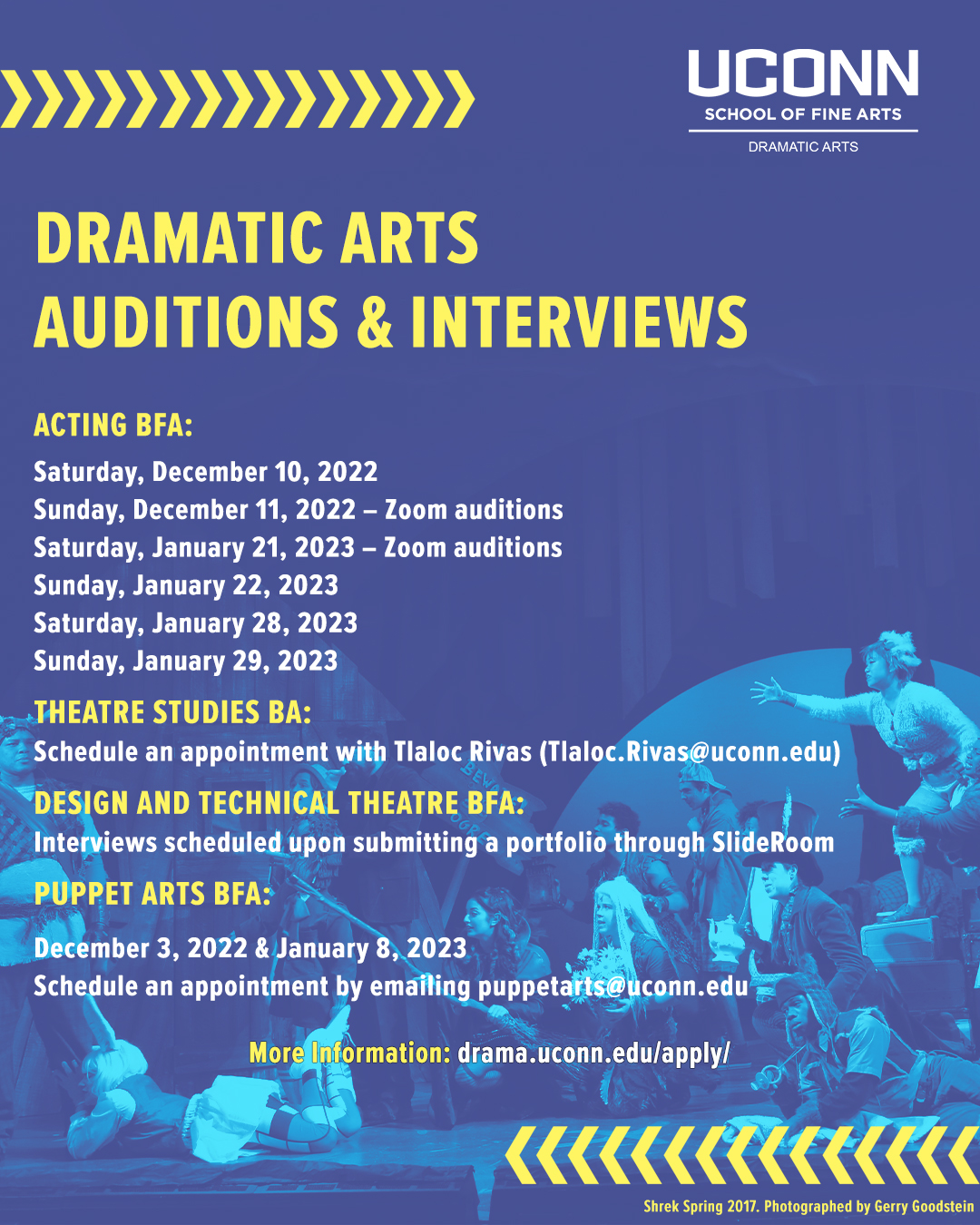 BFA Acting Auditions and Application Information:
Auditions and applications for the 2023-2024 school year are now CLOSED. Please check back summer 2023 for more information. 
BFA Design & Technical Theatre Portfolio and Application Information:
Please submit your portfolio to Slideroom:
The recruitment committee will reach out after reviewing SlideRoom submissions to schedule interviews with qualifying applicants. Instructions about what to include in your portfolio are available when you click the Submit Application button.
BFA in Puppet Arts Audition and Interview Process:
Audition Dates for the Fall Class of 2023: 
BFA: December 3 and January 8

To confirm an audition time please contact Professor Roccoberton at: puppetarts@uconn.edu 
The audition process includes:
A prepared 3-5 minute presentation in any discipline of strength for the applicant, which demonstrates that individual's creativity.
An improvised presentation with objects provided by the audition committee and a presentation of past work through a portfolio and interview.
We anticipate that for the Fall 2022 entry, all auditions will be virtual. (Although it is possible to enter the university in the Spring Semester, it is not recommended for Puppet Arts Majors as many of the required theatre courses are offered in two-semester cycles.) 
BA in Theatre Studies Application Information:
BA program in Theatre Studies requires a Theatre Studies Application which will be reviewed by a selection committee comprised of members of Theatre Studies faculty.  It is to your advantage to submit a Theatre Studies Application as early as possible through Slideroom. Instructions about what to include in your application are available when you click the Submit Slideroom Application button.
Informal Interview:
Theatre Studies does not require an interview for admission, although we do highly recommend reaching out to talk to us about the program. To schedule a conversation, please contact Tlaloc Rivas at tolaloc.rivas@uconn.edu
Graduate Admissions Application Process:
Please see specific MFA Admission Guidelines under your Program Area of Study.
Schedule an interview/portfolio review or audition.  If you receive a "call back" at one of the U/RTA auditions sites, this interview will take place at that time. However, you are welcome to call the department (860-486-2281) to schedule an on-campus interview at a mutually convenient time. You can identify your discipline director by viewing the Dramatic Arts faculty page
For additional information in regards to the University Graduate application requirements and process, please go to the Graduate Admissions website: grad.uconn.edu
Thank you for your interest in the Department of Dramatic Arts at the University of Connecticut.